This Drew Barrymore EgyptAir Interview Went Viral For All The Wrong Reasons
What started off as a funny viral tweet has become one of the most baffling stories, and we're still trying to get to the bottom of it.
Essentially, what happened was a political analyst, Adam Baron, was on an Egypt Air flight when he noticed an odd celebrity profile of actor Drew Barrymore.
Baron posted several screenshots of the feature which included quotes from Barrymore that seemed... well... very strange.
This tweet is unavailable or no longer exists.
To get a grasp at why the interview stuck out as somewhat out-of-the-ordinary, the feature begins:
"Despite being unstable in her relationships most of her life, despite the several unsuccessful marriages and despite the busy life of stardom that dominated her life for several years; the beautiful American Hollywood actress Drew Barrymore has recently decided to temporary [sic] take an unlimited vacation to play her most crucial role as a mother."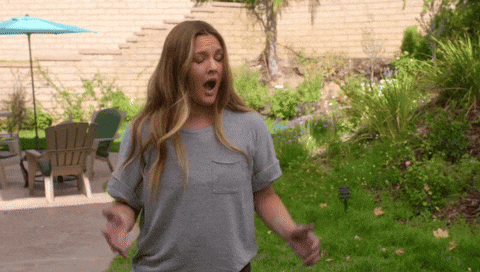 The charming intro continues saying, "psychologists believe that her behaviour is only natural since she lacked the male role model in her life after her parents' divorce when she was only 9 years old."
READ MORE: Viral 'Screaming Sausage' Video Is Worth Watching Before Reaching For A Snag At The Footy
READ MORE: 'Disney Dad' Makes Viral Homemade Costumes For Infant Son
One question is posed to Barrymore that following her last pregnancy she "gained several kilograms" but that for this particular interview she had returned to her "previous graceful body".
The questions themselves aren't the only odd part of the interview with Barrymore's answer to the above question as to how she returned to said graceful body by saying she felt "overwhelmed" when someone told her that she had lost weight.
"I find this a great opportunity to encourage every woman who is overweight to work on regaining her beauty and body," the interview alleged Barrymore responded, "especially that it is not as hard as one may think; it is all about determination and following the appropriate diet under the supervision of a physician."
Here's where things get interesting. Or more interesting as it were.
Following Baron's tweet going viral, The Huffington Post reached out to Barrymore's team and a spokesperson told them that Barrymore "did not participate" in the interview.
But Egypt Air isn't backing down, in fact, they have been responding to tweets around the potentially "fake" interview, doubling down that they did, in fact, speak to Barrymore for it.
This tweet is unavailable or no longer exists.
Not only that, but the airline alleges that the interview was done by Dr Aida Takla-O'Reilly -- which the airline misspelt in the tweet and article as Aida Tekla.
Takla-O'Reilly was the Hollywood Foreign Press Association (HFPA) president for several years. The HFPA is the organisation made up of photographers and journalists who cover the entertainment industry, the non-profit organisation also puts on the Golden Globe Awards annually.
Not only did the airline claim the interview was real, but a Twitter account alleging to be Takla-O'Reilly also posted that the interview was legit. Across a series of tweets, Dr Takla-O'Reilly claimed she spoke to 'Drew Barrimoor' "several times".
This tweet is unavailable or no longer exists.
This tweet is unavailable or no longer exists.
According to Barrymore's reps, Takla-O'Reilly used answers from Q&As and joint press conferences to pepper the interview as if it was a one-on-one.
"Technically Drew did not sit down with EgyptAir for an interview," they said in a statement, "but a journalist who is a member of the HFPA sometimes supplies articles to EgyptAir, and that's what happened."
This tweet is unavailable or no longer exists.
As for Barrymore, despite the absolutely wild interview, we're sure she's at home happily focusing on her daughters, "nurturing their minds as well as their small bodies".
Featured image: Getty.