Kathleen Turner Talked Some Mad Trash About Pretty Much Everyone And It's Truly Iconic
Trump, Elizabeth Taylor, the cast of 'Friends', Nicolas Cage... no one was safe.
Kathleen Turner recently sat down with Vulture for an interview with David Marchese and the resulting chat covered the legendary actor's career, her honest feelings on the industry and her rage.
The entire interview is incredibly candid, barely seconds into it Turner called Elizabeth Taylor's voice bad and not "very skilled".
When asked what has driven her career Turner simply replied "rage," before adding "I'm fuckin' angry, man".
This tweet is unavailable or no longer exists.
Turner's career exploded onto the screens in the '80s, working alongside Michael Douglas, Jack Nicholson -- even Nicolas Cage in Peggy Sue Got Married. The 64-year-old didn't hold back on shading all of her old co-stars like calling working with Burt Reynolds terrible, or saying she made it work with Cage.
This tweet is unavailable or no longer exists.
This tweet is unavailable or no longer exists.
This tweet is unavailable or no longer exists.
It wasn't just co-stars in Turner's crosshairs, U.S. President Donald Trump also got a mention, including a strange habit during his "gross handshake".
"He goes to shake your hand and with his index finger kind of rubs the inside of your wrist," Turner explained adding, "He's trying to do some kind of seductive intimacy move. You pull your hand away and go yuck."
Turner also had a reoccurring role on Friends playing Chandler's transgender father, to which she described not feeling very welcomed by the main cast.
"The Friends actors were such a clique -- but I don't think my experience with them was unique. I think it was simply that they were such a tight little group that nobody from the outside mattered."
But the biggest mic drop, the mystery hidden within the interview that has left film buffs clambering over each other to solve, is who the "very famous Hollywood actress" she shades for playing "the same role for 20 years".
Despite having the name redacted, Turner claimed, "She's probably one of the richest women out there, but I would shoot myself if I were like that, only giving people what they expect".
Read the full interview here and long live Kathleen Turner, Queen of Rage.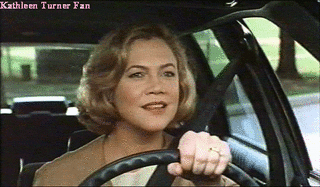 Featured image: Getty images.