US Star Straight Up Lied To Martin Scorsese To Nab Role
Fake it 'til you make it, right?
Lying on your CV to land your dream job is nothing new, but actor Chloë Grace Moretz may have taken it to the extreme when she told a whopping fib to one of Hollywood's biggest directors.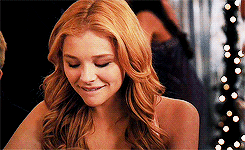 In a chat with Stephen Colbert on The Late Show on August 2, the 21-year-old sheepishly admitted to bending the truth about her nationality to score an audition with the legendary Martin Scorsese back in 2011.
American-born Moretz told host Colbert that she was just 14 when she faked a British accent to suit the role of Isabelle in Scorsese's big-budget film Hugo.
The fib wasn't even Moretz's idea at first, who revealed that it was the film's casting director who prompted her to give a faux accent a go.
All's well that ends well, however, because Moretz's flawless accent meant that she did end up snagging the job, and after discovering the young star's real nationality Scorsese reportedly thought the whole thing was hilarious.
The Kick-Ass actor's little white lie hasn't stopped her from forging a standout career, with roles in films like Carrie, The 5th Wave and the recently released The Miseducation of Cameron Post which she's currently promoting.
Feature image: Getty.