This Conspiracy Theory About Drake's Son Is Wild, And Almost Definitely Not True
We love a theory!
Hello!
In case you missed it, Drake has a son. It was kind of wild because this all came out during a recent rap beef with Pusha T. Things began like most beefs do, with both artists taking shots at the other for using ghostwriters.
Drake also promised to invoice Pusha, insinuating that Pusha and Kanye were using the beef to sell more records. Pusha retaliated, upping the ante by like 9000 percent, mocking Drake's best mate for having MS -- and revealing Drake had a son.
In his track "The Story of Adidon" Pusha not only alleged Drake was a father -- but that he wasn't a very good one.
"You are hiding a child / let that boy come home. Deadbeat mothafucka / playing border patrol / Adonis is your son and he deserves more than an Adidas press run."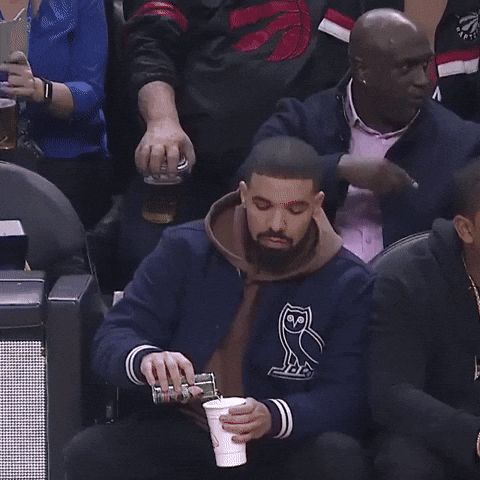 Apparently Drake was planning to name his new Adidas line "Adidon" so Pusha released the track to mess with his branding, as well as exposing him for being a slack dad.
Pusha also gave enough hints for the identity of Drake's baby mama to be revealed as artist and former porn star Sophie Brussaux.
Okay, cute. We're all caught up there!
NOW, there's a viral tweet going around alleging that Drake has loved his baby boy all along!
This tweet is unavailable or no longer exists.
The Tweet alleges that Drake's son's full name is Adonis Mahbed Graham -- and in the song "God's Plan", Drake sings, "I only love my bed and my momma, I'm sorry".
It's MIND BLOWING STUFF! Like honestly, if it were true, it would be pretty brilliant considering we just thought Drake was a sleepy momma's boy.
The post has been retweeted over 19,000 times from that tweet alone -- and re-posted on several other accounts where it's also gone semi-viral -- infers that he was ~ actually ~ saying he loved "Mahbed".
A second tweet also expanded to say "Mahbed" had Romanian origins meaning "chosen one".
This tweet is unavailable or no longer exists.
Like... is our middle name is Boolsheet because this.... sounds... fake.
Firstly, we weren't able to confirm the Romanian origins of "Mahbed", but a quick Google translate told us the Romanian way to say "chosen one" was "unul ales".
Another thing: when TMZ reported that, after taking a paternity test, Drake visited Adonis and Sophie a few times via private jet. During that report they also wrote:
"Get this... Adonis was born on October 24... Drake's birthday. On top of that... they also share the same initials (ADG) and last name, Graham."
Drake's full name is Aubrey Drake Graham, and while it's very difficult to confirm Adonis' full name, there's been no mention of "Adonis Mahbed Graham" on the internet outside the viral tweets.
Brussaux is also not super interested in sharing much with the world, after some absolute dickhead commented on her Instagram, "How about we do a deal, you show us Adonis and I'll pretend to care about your sculptures?"
The artist clapped back, "How about that deal: you unfollow so you don't have to see my sculptures, bc I won't expose my son to internet weirdos".
Oh also -- one last thing -- in January Drake posted this on Instagram:
Folks, that's a bed and his momma, I'm sorry.
Unfortunately -- despite it being a REALLY good theory -- it's probably not true.
Feature image: Instagram / Emojipedia.org