Trump Tells Jimmy Fallon To Stop Whimpering And "Be A Man"
"Be a man Jimmy!"
President Trump has completely unsurprisingly hit back at Jimmy Fallon on Twitter after the late-night host showed remorse for his 2016 interview on The Tonight Show.
Fallon received a ton of backlash in September 2016 after he tussled the then-presidential nominee's hair, with critics saying Fallon attempted to normalise Trump in the eyes of mainstream viewers.
Even former late night talk show giant David Letterman weighed in back in 2017, saying he wouldn't have done what Fallon did.
"I don't want to criticise Jimmy Fallon," Letterman said to Vulture, "But I can only tell you what I would have done in that situation: I would have gone to work on Trump. But the thing about it is, you don't have to concoct a complicated satirical premise to joke about Donald Trump".
In the Hollywood Reporter's Awards Chatter podcast Fallon expressed his regrets in the interview saying, "I did not do it to 'normalise' him or to say I believe in his political beliefs or any of that stuff".
"I saw other comedians from other shows making fun of me on Twitter and I go, 'OK, now I'm just gonna get off.' They know the show. I'm just doing five hours a week. I get in at 10 in the morning, I work 'til seven at night and I'm just trying to make a funny show."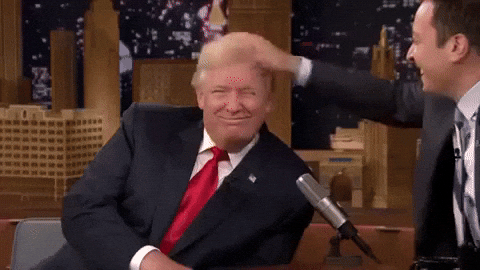 Fallon said the backlash was a "down time" for himself and his staff after criticisms reached boiling point online saying he and the 300 people that worked on the show suffered from low morale. Getting choked up the Tonight Show host wondered what people wanted when they were ganging up on him and his staff.
"I made a mistake. I'm sorry if I made anyone mad. And, looking back, I would do it differently."
Now, one to never bite his tongue, Donald Trump responded in his favourite fashion -- with a tweet that called Fallon out -- alleging he called Trump after the show about the ratings.
This tweet is unavailable or no longer exists.
Despite the 2016 hair-tussling episode occurring at a time when Fallon's show was a ratings giant, since Trump was elected Fallon's show has taken a dive in popularity, shedding more than a fifth of its audience.
Featured image: Andrew Lipovsky/NBC/NBCU Photo Bank via Getty Images.