It's Happening: Tina Fey And Amy Poehler To Host The Golden Globes Again
We're going to have to wait a whole year but Amy Poehler and Tina Fey are set to host the Golden Globe Awards for the fourth time.
The comedians hosted the gig together for three years between 2013-2015 and received unanimous praise for their hilarious awards show schtick.
And although they promised that 2015 would be the last time they would MC the big event, Poehler and Fey have agreed to come back and roast celebs like Leonardo DiCaprio, Meryl Streep and Tom Hanks in 2021.
The 78th Golden Globe Awards are still a year away, but NBC Entertainment chairman Paul Telegdy said the network "didn't want to wait any longer to share the great news that they'll be hosting the Globes once again".
The Hollywood Foreign Press Association's President Lorenzo Soria said of the news that, "there's no denying that Tina and Amy's comedic chemistry is infectious".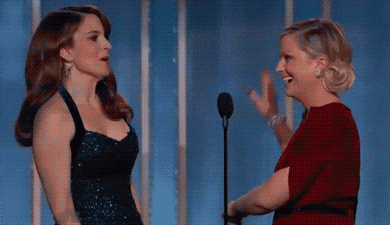 The former 'Saturday Night Live' stars have been busy since their last time hosting the Globes with both racking up plenty of acting and producing credits.
Poehler has executive produced hits including 'Russian Doll', 'Making It' and 'Broad City' (and starred in 'Wine Country') while Fey has worked on 'Unbreakable Kimmy Schmidt', 'Great News' and 'Modern Love'.
The pair said 2015 would be their last time as Globes emcees with Poehler joking in 2014 that repeatedly performing the job wouldn't do them any favours.
"It's the law of diminishing returns, which is why this is our last time," Poehler said. "Unless you want to be a perennial host, there's nowhere to go but down!"
"But could this be the "farewell tour" that keeps on going? Poehler joked, "We'll be the Jay Z of the Globes and never retire."
Last week, comedian Ricky Gervais hosted the Globes for the fifth time and also promised that it would be his last time on stage -- and it's probably best if everyone stops making grand retirement announcements when they're almost certain to return.
Main Image: Getty.