Will Steven Bradbury 'Do A Bradbury' On 'Australian Survivor'?
It's the Aussie sports moment so legendary it became a phrase in its own right.
Salt Lake 2002. The Winter Olympics. Aussie short track speed skater Steven Bradbury is hopelessly out of touch in the 1,000m final.
Coming to the final bend, he's almost a quarter of a lap behind the leaders. And then... the impossible! All four leaders topple in a massive pile-up, and Bradbury skates through to win the gold medal in a famous "last man standing" moment.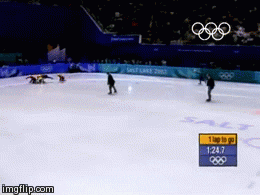 The phrase "to do a Bradbury" has since passed into Aussie lexicon. It means to win while all your competitors crumble. And in many ways, you'd reckon that's a pretty sound strategy for 'Australian Survivor'.
Think about it. How many times have we seen the guy or girl who does a whole lot of nothing triumph in the end? How many times have the front-runners fallen -- picked off at early tribal councils by their double-crossing tribe-mates who quite rightly see them as a threat?
Yep, all the time.
Naturally, then, we asked Steven whether his plan in 'Australian Survivor' was to do a Bradbury for the second time in his life. As in, to sit around and not annoy people, then wait for others to make mistakes.
The dude on the ground? His name is Apolo Ohno. Yes his surname really is "Ohno". You can't make this stuff up. Image: Getty.
READ MORE: Australian Survivor 2019: Here's Your FULL List Of Champions And Contenders
His response?
Well, he obviously wouldn't give too much away, but he did say he was willing to be a bit more strategic than that, and even be a little sneaky if necessary.
"When I went in, I thought I would be able to play the deceptive game if required," he told 10 daily.
"I was hoping I wouldn't have to. I wanted to outplay and outlast but I was willing to outwit if I had to. Part of this game is that it's permitted to deceive, but for me, that's still very difficult."
Yep, that's true to character. When you meet Bradbury (as this winter sports-obsessed reporter has several times), he's a pretty straightforward bloke. The sort of guy you feel you can trust.
Being trustworthy is a pretty good asset in this game. But you know what Steve reckons the best asset is? The one no amount of money or power or friends can buy.
Luck.
"They pump 'Survivor' up to be the greatest of all games, all strategy and skill, but when you boil it down, there's a lot of luck as well," he said.
"You're one in 24 people when you go in, and there are a lot of things that are out of your control. Sometimes being in the right place at the right time, or talking to the right person at the right time makes all the difference."
Whether Steven got lucky or not is for us all to discover as the show unfolds in coming weeks. For now, what we can share is that Steven learned a thing or two about himself in Fiji.
"For the most part, I had a good time leaving the laptop and the phone and all the 21st century electronics behind. I'd never camped much before so it was great learning camping skills, eating rice and beans, all that sort of stuff. It was good to get in touch with your soul a little bit more."
Ooooh. And what did your soul tell you, Steve?
"Probably my soul told me sometimes that I can be a little bit complacent with the important things in my life like my wife and kids, and that I needed to focus on what really is most important, rather than just going through the routine of what I do every day."
So there you have it. Nice guy Steven Bradbury might just have emerged as an even nicer guy after his 'Australian Survivor' experience. Who says reality TV turns you into a raging egomaniac?
Well actually, there is one episode where he made somebody cry on the show, but we'll leave that there for now.
Steve even says he's made a few friends on the show. He'll be watching the premiere at his place tonight, along with fellow 'Australian Survivor' player and former AFL champ Simon Black.
On the menu? You guessed it. 'Survivor' food.
"I'm gonna make the kids eat rice and the hard beans that take forever to cook and taste like cardboard," he laughed.