This Bedazzled Pigeon Is My Summer Looks Icon
Move over Hot Duck, because Bedazzled Pigeon is serving LEWKS.
It seems the internet loves a fashionable animal, and this week -- following the discovery of the social media star that is 'Hot Duck' (aka a Mandarin duck that lives in Central Park) -- a sassy new contender has stolen our hearts.
He's gorgeous, he's majestic, he's fabulous -- he is Bedazzled Pigeon.
According to Gizmodo, Jody Kieran, the owner of a bird rescue and rehabilitation centre in Arizona revealed that the style-savvy male pigeon was rescued last week after someone reached out to her about a bird found near their home that seemed to be wearing something strange.
They told the caller to bring in their new feathered friend. "I said, 'Okay we've got to see this.' I kind of rolled my eyes." she says. "I open it up, and there he is, wearing a flight suit," Jody told the website.
In case, like us, you have NFI what a flight suit is, apparently it's kind of a bird nappy so they don't sh*t everywhere while outside their cage (pretty useful tbh). But clearly, this bird's rhinestone-adorned number is much more extra than your average bird diaper.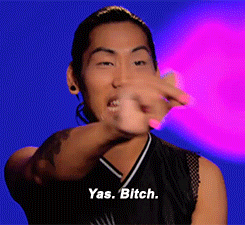 READ MORE: A Beautiful Mandarin Duck Randomly Appeared In New York
"I have been doing bird rehab for over 20 years now -- I take in over 2,000 birds a year -- and normally wild birds arriving with clothing is enough proof to me that this bird was owned and loved," she said, adding that she's still searching for the previous owner.
READ MORE: The Hottest Style And Beauty Instagrams Of The Week #15
However, if no one comes forward, she'll rehome him to a new family -- and apparently, there's already a waiting list for this handsome fella.
It's also reminded us of other animal fashionistas who totally ~worked~ these wild looks. Remember Ikea Monkey?! Winter style goals, tbh.
Or there's Remix the Schnauzer, who rocks the hipster look better than half of the Inner West.
Or there's Hamlet the Piggy, whose eclectic and avant-garde style has earned her a whopping 346,000 followers on Instagram.
Basically, all these animals are absolute #StyleGoals who are just living their best, most fashionable lives, and are living proof that fashion can be fun for anyone -- no matter what species you may be.
Image: Jody Kiernan/Gizmodo