George Lopez Gives Trump's Hollywood Star The Golden Shower Treatment
More like George Lo-peez
It's no secret that US president Donald Trump isn't the most popular person in Tinseltown (except to Kanye West).
He's been publicly blasted by Robert De Niro twice and is set to be taken on by Sacha Baron Cohen in his new satire Who Is America? And now, he's received the golden shower treatment from George Lopez.
Well, sort of.
The comedian -- who has had a long-running feud with the prez -- filmed a video of himself on Wednesday using a bottle of water held at his crotch to simulate peeing a torrent of fluid all over Trump's star on the Hollywood Walk of Fame.
This tweet is unavailable or no longer exists.
It comes after the comic created his own cheeky version of Melania's infamous "I don't care, do u?" jacket, with his design featuring the phrase "Keep the kids, deport the racist" across the back.
Selling the coat in his personal store, Lopez revealed that all money made from the jacket would be donated to organisations focused on reuniting parents and their children who were forcibly separated at the US border by the Trump administration.
Lopez also stirred up some political controversy last year when he was booed off stage at a gala for juvenile diabetes after his anti-Trump comedy routine didn't bode well with the audience.
"Thank you for changing my opinion on old white men, but it doesn't change the way I feel about orange men," he allegedly said when asked to stop making jokes about the president.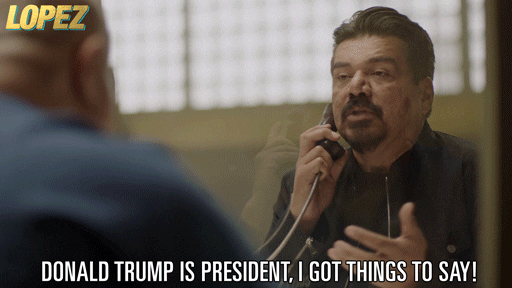 Kind of iconic, tbh.
Image: Getty/Twitter