Maisie Williams' Cheeky Nod To Game Of Thrones Final Season
The star says farewell in true GoT form.
Before we begin, this may contain some spoilers for hardcore Game of Thrones fans, so here's your obligatory ~spoiler alert.~
Maisie Williams has officially said farewell to her Game of Thrones character in the most appropriate way ever -- with a little bloodshed, of course -- after wrapping up her final scenes.
With the show's eighth and final season looming, the star took to social media on July 7 to commemorate her time playing Arya Stark by posting a pic of some red-spattered white sneakers on Instagram.
"Goodbye Belfast. Goodbye Arya. Goodbye Game of Thrones," Williams wrote in the caption. "What a joy I've had. Here's to the adventures to come."
While we can't say for sure, it appears as though the cheeky pic may also hold some significant reference of what's to come for Arya Stark in season eight. And perhaps even afterwards.
The 21-year-old star added, "#lastwomanstanding", which immediately got tongues wagging on fan sites and forums buzzing with speculation that she may indeed be the only surviving character from the show, or perhaps be the one to take the Iron Throne after some kind of final bloody massacre.
She also included the hashtags, "#immasleepforthenextfouryears," and "#justkiddingidontsleep."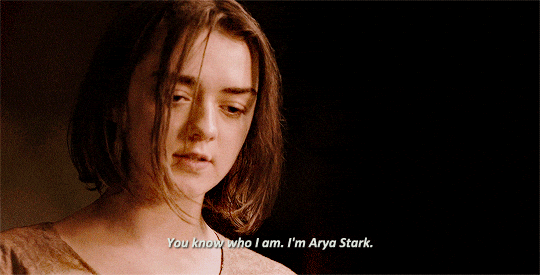 One fan was quick to reply and said, "This post makes me so happy and so sad at the same time," while another person said, "What does this mean?!?!?"
Another person added, "Last woman standing... seria [sic] spoiler? Can't wait!!"
Williams' homage to the show comes only weeks after her co-star Emilia Clarke, who plays Daenerys Targaryen, also posted a tribute to the show's Ireland -- one of the show's most prominent filming locations -- last month.
"Hopped on a boat to an island to say goodbye to the land that has been my home away from home for almost a decade," Clarke wrote in the caption. "It's been a trip @gameofthrones thank you for the life I never dreamed I'd be able to live and the family I'll never stop missing #lastseasonitis."
Obviously, we're going to have to wait until the show's finale to find out what really happens -- unless more GoT peeps start a-talkin' -- but until then, there's just enough time to watch the entire series from the beginning again.
Feature image: Getty.