Chucky's Back! Horror Classic 'Child's Play' Set To Be Remade By Producers Of 'It'
He's your friend 'til the end...
If you thought Annabelle was enough to give you a (highly warranted) fear of dolls, then hold onto your hats, 'coz our OG killer toy Chuckie is set to slash his way back into your nightmares in a reboot of the 1988 horror classic, Child's Play.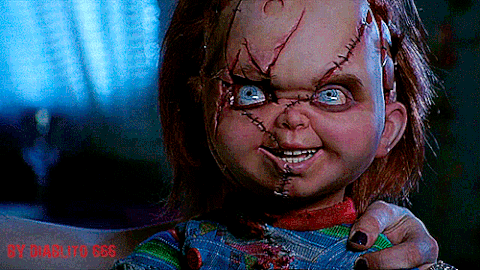 Riding the wave of '80's nostalgia that's seen cult hits It and Friday the 13th remade with a modern twist, the reboot of Child's Play will reportedly be produced by David Katzenberg and Seth Grahame-Smith -- who produced the It revival –--and directed by Lars Klevberg, who directed the as-yet-unreleased horror movie Polaroid.
As for whether the modern remake will stick closely to the story of a toy doll named Chucky that becomes possessed by the soul of a serial killer remains to be seen, with movie house MGM remaining tight-lipped on plot details.
What we *do* know is that it involved a bunch of kids and a technologically-advanced doll that enters their world.
Yep -- so basically Chucky 2.0 will have some 2018-worthy technological arsenal to add to his already terrifying persona... 'coz it's not like we weren't already scared sh*tless of a murderous possessed doll without the added frills.
There's also whispers that a TV series based on the killer doll is in the works -- though it's apparently a continuation of the existing story rather than a reboot.
There are already currently a whopping seven flicks in the current Child's Play franchise --the most recent being Cult of Chucky released in 2017.
It's unknown whether the reboot will embrace the more comedic aspects of the franchise's sequels or follow the darker origins of the original, but either way, we'll probs be sleeping with the light on.