The Cast Of Grease (Then And Now)
What they look like 40 years on.
Calling all T-Birds and Pink Ladies ...
This weekend officially marks 40 years since we first saw those sassy gals and unruly lads of Rydell High sing and dance in the hit musical Grease. So what better time to dust off the ol' VHS -- or perhaps even stream it on Netflix -- and reconnect with your favourite characters.
But if you're like us, you're probably wondering what ever happened to the cast members after their characters drove off into the sunset?
Well, as it turns out, a lot.
From John Travolta's badass character Danny, to Olivia Newton-John's goody-two-shoes Sandy, let's take a look and see what those Rydell High graduates have been up to recently -- and more importantly, what they look like!
John Travolta (Danny)
Of course, we don't need to tell you this, but just in case you've been living in and underground nuclear fallout shelter, we're bring you up to speed. Travolta has had many hit films and still continues to be one of Hollywood's most in-demand actors. Among his many noteworthy roles are Saturday Night Fever, Pulp Fiction, Face/Off, Swordfish, Get Shorty, and, wait for it ... Hairspray!
Olivia Newton-John (Sandy)
While Newton-John is generally regarded for her music career -- including the 1981 hit single Physical -- rather than her film credits, she definitely left her mark in Hollywood. In addition to starring in Grease, the blonde babe also sashayed on the big screen in the hit film Xanadu. She also had a Las Vegas residency in 2014.
Stockard Channing (Rizzo)
Since graduating from Rydell High, Channing has had a very successful TV career, playing a number of memorable characters, including First Lady Abbey Bartlet on The West Wing. She also starred on Broadway and continued to appear in films every couple of years. Her credits include Practical Magic, The First Wives Club, and To Wong Foo, Thanks for Everything! Julie Newmar.
Didi Conn (Frenchy)
The bubble-gum-blowing beauty school dropout that we all came to love and adore -- played by Didi Conn -- is one of the few graduates to stay in touch with her Grease roots -- her pink roots, that is. She reprised her role as Frenchy in 1982's Grease 2 and even made a cameo appearance in the 2016 Grease: Live! production.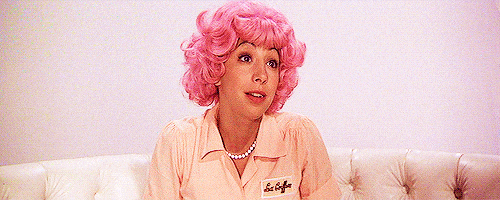 Jeff Conaway (Kenickie)
Conaway had many successes on stage, in film and on TV. He played Danny himself in the Broadway production of Grease before landing the role of Kenickie in the movie. After filming wrapped, he went on to appear in a number of films and even earned two Golden Globe nominations for his work in the series Taxi. He died in 2011 at the age of 60 from pneumonia.
Dinah Manoff (Marty)
Manoff has had a very successful career on the small screen since leaving Rydell High. Among her more noteworthy TV credits are Soap, Empty Nest and State of Grace. She also won a Tony award for best performance by a featured actress in the play I Ought to be in Pictures. Fun fact: Her character in Grease couldn't dance, which is why we don't see Manoff in the dance scene.
Michael Tucci (Sonny)
After playing the badass character Sonny in Grease, Tucci went on to have a very successful career in television throughout the '80s and '90s. In addition to appearing as a regular on Flying Blind and Diagnosis Murder, he also made the occasional cameo in shows such as The Love Boat, Diff'rent Strokes, and MacGyver. He also appeared in several films, such as Blow and Mimic 2.
Jamie Donnelly (Jan)
Brusha Brusha Brusha! These days, Jamie looks completely different to her dorky Pink Lady character Jan. Although it appears, she has continued to keep up her "brusha brusha" which may explain why she still has her trademark smile. After taking a 20-year hiatus from acting, Donnelly made a comeback in 1998, and has since appeared in various films and TV shows, such as Monk.
Barry Pearl (Doody)
Although Pearl's credits began to wane somewhat after Grease, he has still achieved moderate success since checking out of Rydell with the other seniors. In addition to touring with Grease in 1973, Pearl also appeared in a number of hit TV shows and sitcoms from the '90s, including Baywatch, House, M.D. and Criminal Minds. He also reprised a role in the 2016 Grease: Live! production.
Feature image: Paramount Pictures/Getty images.