John Boyega Is Sick Of Toxic Star Wars Fandom
And he had a lot to say about it.
Following Kelly Marie Tran leaving Instagram after copping a barrage of abuse from butt-hurt Star Wars fans, her Last Jedi co-stars have had an absolute gutful of the vile comments and have come out swinging in the star's defence.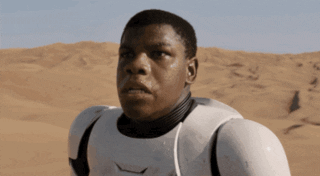 On Tuesday, John Boyega went on the attack via Twitter, saying:
"If you don't like Star Wars or the characters understand that there are decisions makers and harassing the actors/ actresses will do nothing... You're not entitled to politeness when your approach is rude. Even if you paid for a ticket!"
He later added, "To the majority of Star Wars fans thank you for supporting and putting yourselves in our shoes. You understand that there is a process so much appreciated!"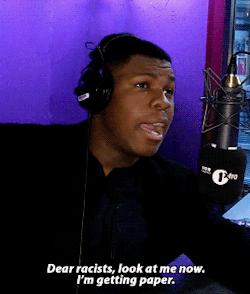 The Vietnamese-American actress played Rose Tico alongside Boyega in last year's huge Star Wars sequel, but soon found herself the target of relentless racist and sexist comments from so-called 'fans' of the franchise.
As well as this, her character's page on Wookieepedia was edited by trolls last year, who changed her name to "Ching Chong Wing Tong," and described her "stupid, autistic and retarded."
Boyega, who plays Finn, wasn't the only one to clap back at the haters, with The Last Jedi director Rian Johnson having a few choice words for the toxic fandom -- namely, calling them a bunch of 'man babies'.
"On social media a few unhealthy people can cast a big shadow on the wall, but over the past 4 years I've met lots of real fellow SW fans," Johnson tweeted. "We like & dislike stuff but we do it with humour, love & respect. We're the VAST majority, we're having fun & doing just fine."
Star Wars icon Mark Hamill also backed Tran, positing to Twitter, "#GetALifeNerds," alongside a picture of himself and Tran. "What's not to love?" he added.
This tweet is unavailable or no longer exists.
The Force Awakens star Daisy Ridley has also spoken out about the harassment she also endured upon joining the franchise, telling Glamour, "I posted a thing about gun regulations, because I was at an event in tribute to the Orlando shooting at Pulse. People weren't nice about how I looked. And I was like, 'I'm out.' Simple as that. That is not what I signed up for," she said.
Props to these guys for calling out this gross behaviour!
The next Star Wars movie, Episode IX, is set to be released in December 2019.