First James Bond Girl Eunice Gayson Dies At 90
The one who started it all.
The very first "Bond Girl", Eunice Gayson, has died at the age of 90.
Gayson played Sylvia Trench, one of James Bond's love interests in Dr. No and From Russia with Love. She was one of a select few Bond girls to be in more than one movie -- including the one that started it all in 1962.
A post from the star's official Twitter account read, "We are very sad to learn that our dear Eunice passed away on June 8.
"An amazing lady who left a lasting impression on everyone she met. She will be very much missed."
This tweet is unavailable or no longer exists.
A follow-up tweet included a statement by movie producers Michale G. Wison and Barbara Broccoli, in which they paid tribute to the actress.
It read, "We are so sad to learn that Eunice Gayson, our very first 'Bond girl' who played Sylvia Trench in DR. NO and FROM RUSSIA WITH LOVE has passed away.
"Our sincere thoughts are with her family."
This tweet is unavailable or no longer exists.
While she's best known for sizzling up our screens with agent 007, Gayson -- who was born in Croydon, Surrey on March 17, 1928 -- also played a major role in the Hammer horror film The Revenge of Frankenstein and was seen on TV in series such as The Saint and The Avengers. She also played the baroness Frau Schrader in the London production of The Sound of Music.
During her tenure as the Bond babe, Sean Connery delivered one of the franchise's most famous quotes to Gayson's character -- and it's even been suggested that she can be credited for giving Mr. Connery his iconic phrase.
This tweet is unavailable or no longer exists.
In the iconic scene, Sylvia Trench meets with 007 while playing a game of cards at a casino. After a few hands, the pair exchange a few words and she later asks to raise the stakes, we hear his famous words.
Bond: "I admire your courage, Miss ...?"
Sylvia: "Trench. Sylvia Trench. I admire your luck, Mr ...?"
Bond: "Bond. James Bond."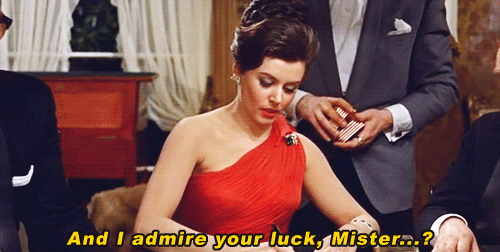 Despite playing such an iconic role, the character of Sylvia Trench did not appear in any of the James Bond novels, and was actually invented by screenplay writer Richard Maibaum.
Interestingly, as with many of the Bond girls from the '60s and '70s, Gayson's lines were also rerecorded by voiceover artist Nikki van der Zyl. Nevertheless, she will be forever remembered -- and immortalised -- for her contribution to the James Bond films -- and we love her for it.
Feature image: Getty/Instagram@007.