Britney Recreated An Iconic '90s Rom-Com Moment And Boy It Will Take You Back
Julia Roberts would be proud.
We always thought of Britney Spears as a pretty woman but now she's confirmed it before our very eyes. In a video posted to her Instagram account on June 2 the pop princess is seen perched on the edge of a balcony -- rather high up we might add -- in homage to an iconic scene from the 1990 romantic comedy Pretty Woman.
Wrapped in a white bathrobe with her long blonde hair loose and a mug of coffee by her side the 36-year-old reveals that she's a bit of a fan of the Julia Roberts film. So much so that she can quote this particular scene word-for-word.
'Edward, look! No hands, no hands!' the mum of two shouts before pretending to fall backwards. Yeesh Brit way to give us a shock. Thankfully just like in the movie our leading lady stays safe and sound. Which is a good thing too as the 'Toxic' singer is about to embark on a sold-out tour of the US, UK and Europe.
Fans' comments on social media confirm that they too love Britney's homage.
Some even considered it award-winning. And we're not mad.
While others were just a little bit concerned. We get it guys. Safety first.
While we're not sure who filmed Brit Brit's dramatic scene it may have been her boyfriend Sam Asghari. If that's the case then Ms Spears was in good hands. We mean that quite literally -- have you seen this guy's arms?
That being said don't try recreating this scene at home kids. Leave it to the professionals. And Britney.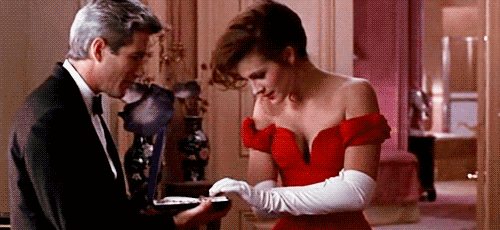 In other Pretty Woman news you can now own Julia Roberts' iconic red dress. Well a very similar version anyway. US brand Reformation has released the Bali dress which with its plunging neckline and off-the-shoulder sleeve is a fair replica of the floor-length gown worn by Roberts.
At $512 -- excluding shipping -- it doesn't come cheap but can you put a price on looking like everyone's favourite hooker-made-good? No we didn't think so. White gloves and diamond necklace optional.
Feature image: Getty and Pinterest/Marion Gaertner