Why Everyone Should Go To Eurovision At Least Once In Their Lives
We have one word for you: Glitterballs.
Anyone who got up at 5am to watch "our Jess Mauboy" smash through to the Grand Final of Eurovision will be a) as tired as I am and b) wishing they were there.
For the past three years I was there -- working for a leading women's magazine, I covered Eurovision in Vienna, Stockholm and Ukraine where we sent Guy Sebastian, Dami Im and Isaiah Firebrace respectively.
And goodness gracious me it was fun! And sparkly. SO. MANY. GLITTERBALLS.
Think thousands of fancy-dressed partygoers waving flags and dancing to loud Euro-pop, with the wildest pyrotechnics, extreme light shows and lasers up the wazoo.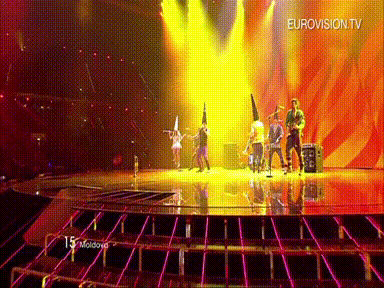 Women on stage churning butter (yes Poland did it for real), men dressed as Orcs (Lordi, from Finland, in 2006), Russian grannies and Ukrainian vampires coming out of coffins and setting fire to stairs -- yes that's just one of this year's delights – make it a true spectacle, and the whole event is the kitschest glitter-filled extravaganza ever.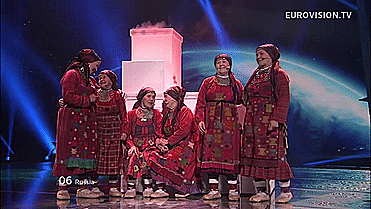 It's a celebration of life, music and yes, patent-leather lederhosen, and I wouldn't have it any other way.
Of course, as well as the tinsel, Eurovision is big business. Every year national broadcasters from every country that takes part have to pay a fee to enter, and the Big Five -- France, UK, Spain, Germany and Italy -- get automatic entry because they pay even more. The winning country then hosts the following year -- and the worst thing that can happen for a country suffering with financial debt is to win twice in a row. Ireland once had to hold the competition four times in five years -- a winning run that was said to have almost bankrupted TV station RTE.
Not that it doesn't bring in the tourism dollars if you are hosting. Thousands of people travel to the host city -- wherever it is -- each May, with a party on their mind and a lot of Euros in their wallets. Hotels are packed. Bars are crammed. Flag shops make a killing. Glitter sales go through the roof.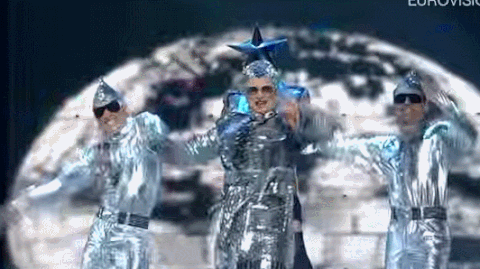 There are politics, of course -- the infamous bloc voting really is a thing. The Balkan states vote for each other, Scandinavian countries are in each other's pockets and those Soviets… well. And then there's the "little blocs" -- Ireland and the UK often vote for Malta for example -- and the negative bloc votes where countries band together NOT to vote for places they've had grievances against.
But when you're there, of course, none of this bloody matters. What matters is GLITTERBALLS!
It's an event for everyone -- thousands of people can get to the shows and get involved. You can buy tickets to the Jury Show of each semi-final, and the Grand Final, as well as the televised events -- those poor contestants really earn their wages, doing rehearsal after rehearsal to sort out the fancy camera work, fireworks and lighting, jury shows, family shows and more.
They may be exhausted but it means fans have a rocking good time.
And the fun doesn't stop with rehearsals or Jury shows. In Kiev, we picked up highly-prized Golden Circle tickets (right at the front of the stage) to the Grand Final for next to nothing. Yes, in Stockholm we had to make do with a dance party in a neighbouring stadium with the final beamed in on giant screens, but hey, it was so much fun I didn't care. I was running between the backstage area where I was interviewing Dami, and the dance floor, draped in an Aussie flag and wearing a Dami Army hat. I was loving it.
I've never donned a flag before -- and possibly won't again -- but being identified by your country at Eurovision is part of the fun -- strangers come up and congratulate you for your entry ("Thanks, I wrote it myself!"), people chant, clip on koalas are coo-ed at. Everyone is so happy -- it's the perfect antidote to what is really going on in the world. When you're at Eurovision the biggest international issue is who is "false flagging" -- representing a country they're not from -- or who was flirting with who in the Green Room or at the Eurovision Club. Why do Austria always wear hats (and have beards)? Why can't Moldova ever win? What was Latvia wearing…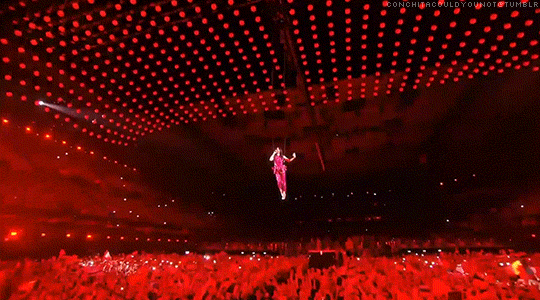 It's fun, it's fabulous and it's the Grand Final this Sunday morning. You should get up for it at 5am. I will. Everyone could do with a bit more glitter, right?